[metaslider id="14″]
Celebrating 25 Years of the New Hampshire Furniture Masters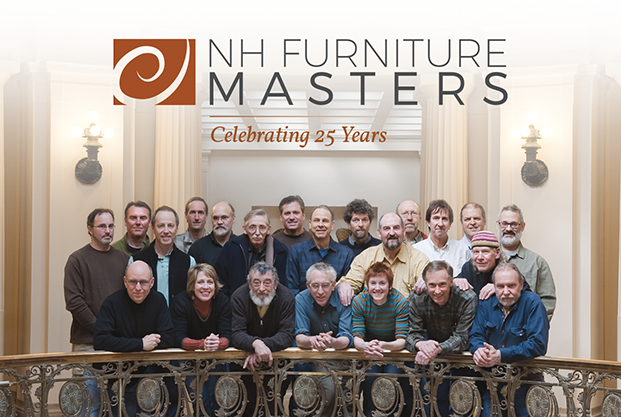 25 years ago, furniture makers David Lamb, Bill Thomas, Jere Osgood, Terry Moore, Lenore Howe and Brian Braskie and community members John Frisbee, Allison Banks, Jen Lucic, Mary McLaughlin and Tony Hartigan formed the New Hampshire Furniture Masters Association. The founders had one goal in mind: to build public awareness of New Hampshire's fine furniture makers and to cultivate an audience for their goods closer to home.
The list of sponsors, friends and institutions that have championed the idea of promoting exquisitely created furniture made in small New England shops is extensive – thank you!
As we welcome 2020, and the 25th anniversary of the Furniture Masters, we are planning a series of events and activities. We will keep updating this page as we add events.
Upcoming Events:
The Furniture Masters are pleased to be collaborating with the League of NH Craftsman to host our 25th anniversary exhibit in Concord this summer. The exhibit will showcase new works by current members, and will also look back at early pieces that were made and shown by the group. Much of the work will be available for sale. Details coming soon.
Exhibition Dates: Friday, July 10 – Sunday, September 27, 2020
Opening Reception: Friday, July 10, 2020
Furniture Masters' Annual Gala: Thursday, September 17, 2020
Exhibition & Gala location: League of NH Craftsmen Headquarters, 49 South Main Street, Concord, NH – across the hall from the Furniture Masters' Gallery