We are big fans of Rough Cut Woodworking with Tommy Mac but love the show most when our own Tom McLaughlin makes a guest appearance. You may have seen the episode where Tom and Tommy featured this Kitchen Leaf Table design.   With the holidays fast approaching, those extra leaves sure will come in handy and can accommodate 10 seated for dinner in a blink of an eye.
If you had table envy, we've got great news!  Tom McLaughlin is offering the table for sale for $5,370.
If you have an interest, head to Tom's Epic Woodworking website for more details: http://www.epicwoodworking.com/offering/
As seen under construction on the PBS TV show
Rough Cut Woodworking with Tommy Mac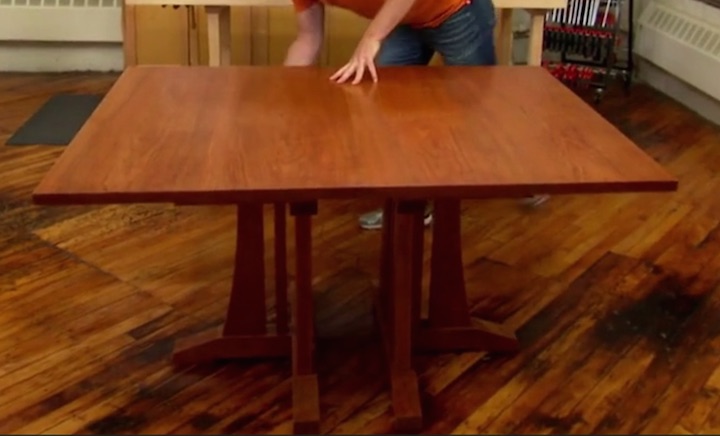 Unique hidden leaf mechanism — holds 2 leaves
FEATURES
Handmade, original Craftsman style design
Unique hidden compartment to store leaves under top

Seats up to 10 with leaves

Top made from choice, wide, 1-1/8″ thick cherry from the same tree
Premium, smooth action, low profile metal table extension slides
Table bases constructed with exceptionally strong, traditional mortise and tenon joinery
Finish on the top is high-quality, easy-to-maintain, tung oil varnish blend
Double pedestal design allows free movement and reduces bumping into exterior legs.
DIMENSIONS
•  Table with no leaves:  56″L x 44″W x 30″H
•  Table with one leaf:  76″L x 44″W x 30″H
•  Table with two leaves:  96″L x 44″W x 30″H
•  Each leaf:  44″L x 20″W
Save
Save
Save
Save
Save